Lentil burgers with sweet potato wedges and a sour cream and chive dip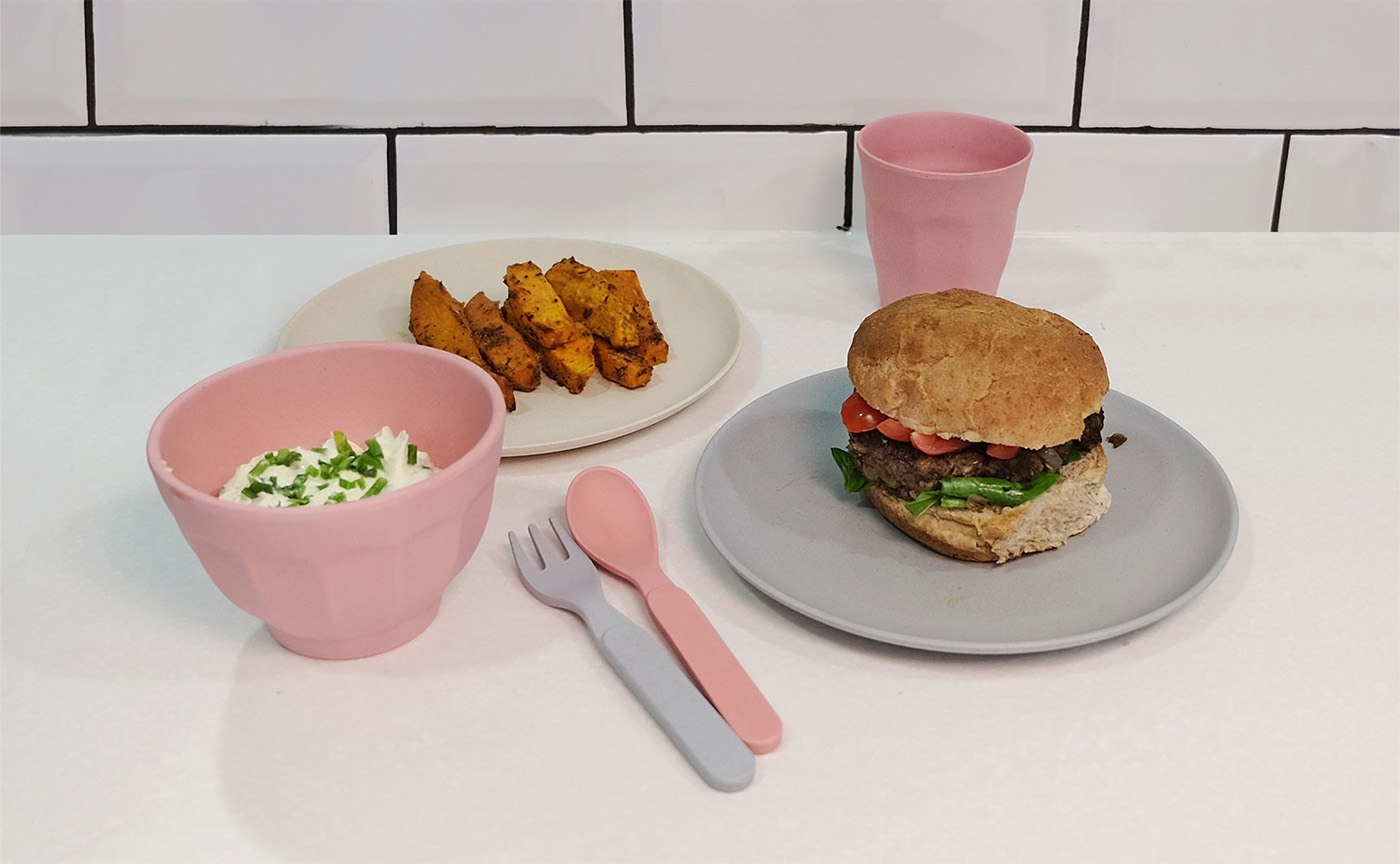 Servings 4
Total 1h 20 mins
Prep 35 mins
Cook 45 mins
This isn't just any nursery food…This is the delicious #NFamilyClub lentil burger served with roasted sweet potato wedges and a side of sour cream and chive dip. Yum.
Ingredients:
2 tbsp vegetable oil
4 onions,finely chopped
6 cloves garlic
5 grated carrots
1kg mushrooms
500g sunflower seeds
1.5 tbsp ground coriander
1 tbsp nutmeg
1 tbsp cumin
2 tsp white pepper
5 zero salt stock cubes
500g white quinoa
2.5kg cooked green lentils
250g gluten free porridge oats
500g vegetable suet
6kg sweet potato peeled
1.2kg sour cream (or Oatly Oatgurt for a dairy free option)
½ bunch chives, finely chopped
Paprika to taste
Garlic powder to taste
1 tbsp dried garlic
Olive oil
Directions:
Make the lentil mixture. Pour the oil into a large non-stick frying pan and fry the onion gently over a low heat until it is very soft, this may take up to 15 mins. Add the garlic, grated carrot, chopped mushrooms and sunflower seeds. Season pepper then add the other spices.Let it cook down for 5 mins to reduce some of the moisture from the vegetables.
Add the zero salt stock in 200ml water and quinoa. Bring to the boil, cover and cook for 30 mins or until all the liquid has been absorbed and the quinoa is tender. Take the pan off the heat and tip the mixture out onto a large roasting tin so it can cool quickly. Once cold stir in the lentils, oats and vegetable suet.
Shape lentil mixture into patties and lightly fry to give colour. Finish cooking through in the oven.
Cut sweet potatoes into wedges. Coat in olive oil with paprika, powdered garlic and dried parsley. Roast in a hot oven until soft.
Combine sour cream and chives.
Serve burgers, sweet potato and sour cream separately.